Welcome to the Joyconcept's new website.
Joyconcept's mission is to introduce beautiful things that will enrich your enjoyment and understanding of culture, art and music, and to foster creators.
With 30 years of experience in dealing with only the finest art work at Gallery Nukaga, Joyconcept is dedicated to reaching out to people of all ages and to the general public through seminars, galleries, live performances and online initiatives.
Having grown up in a family with both parents as musicians, music has always played a significant role throughout my life. The jazz lounge bar, BLUEFLAME was created as a place to appreciate art and culture while simultaneously enjoying music and drinks. At the lounge, there are many artworks on display that people can actually touch and feel so that they can truly understand the beauty of each artwork. We also conduct monthly seminars at the BLUEFLAME ACADEMY where we discuss varying topics from music, art, to culture.
I sincerely hope that you will visit each of our establishments next time you are in town, because there is no substitute for experiencing great work of art, music and culture in person and that will bring "joy" to your life!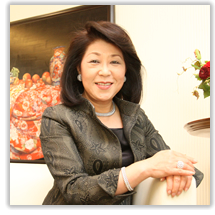 Mariko Nukaga,
CEO, Joyconcept
Profile

-Born in Yokohama as the first daughter of Nobuo Hara, the world famous saxophonist and jazz band leader.
1977
Opened Gallery Nukaga in Sendagaya with her husband, Masatoshi Nukaga, her former classmate at Sophia University.
1988
Moved Gallery Nukaga to Hiroo to the same building as Restaurant Hiramatsu, managed by her brother-in-law. Art work primarily focused on French art including works by Barbizon, Impressionist and Ecole de Paris artists. Held a number of exhibitions highlighting Pablo Picasso, Marc Chagall,Andrew Wyeth, etc. Also involved in the process of starting up and organizing many art museums.
2006
Established Joyconcept. Began producing various Japanese artists and creators. Her home interior was recognized as one of the more comfortable living quarters with a great sense of aesthetic taste and aired on a French television art channel.
2007
Opened Bar, BLUEFLAME, a live jazz lounge bar.
2008
Met Inuki Tachihara,a Japanese woodblock artist and held his exhibition at Gallery Nukaga. Held an exhibition at Armani Ginza Tower highlighting works from the young days of Shintaro Ishihara, the formergovernor of Tokyo.
2009
Began a monthly cultural seminarcalled, BLUEFLAME ACADEMY at BLUEFLAME. Held "Mederu Akari", a lighting art Exhibition at Bucheron Ginza and introduced works by Eriko Horiki using the latest LED applied technology. Launched a project to introduce Japanese artworks (made in Japan)overseas.
2010
Held presentation and introduced Inuki Tachihara's work at ART Affair CANNES '10.
Produced Inuki Tachihara's autobiography"Ittou Ichie"
2011
Started developing LUMITRANCE. Completed registration of trademark and design.
2012
LUMITRANCE product commercialization
2013
Patent pending for LUMITRNACEtechnology.
Exhibited LUMITRANCE at TOKYO Designers Week
2014
Exhibited LUMITRANCE +(plus) at Art Fair TOKYO 2014
2015
Exhibited LUMITRANCE +(plus) at Art Fair TOKYO 2015
| | Company |
| --- | --- |
| Company Name | Joyconcept Co., Ltd. |
| Establishment | March 9, 2006 |
| Address | 3-3-38 Minami-Azabu, Minato-ku, Tokyo 106-0047 |
| CEO and President | Mariko Nukaga |
| TEL | +81-(0)3-3443-5399 |
| FAX | +81-(0)3-3447-3023 |
| URL | http://www.joyconcept.co.jp |
| Information | info@joyconcept.co.jp |
| | |