KUROKAWA Kiriko
are unique and one-and-only piece of art.
Handmade, his signature is engraved
on each and every Kiriko designed for authenticity purposes.
He is the sole craftsman in the glass cutting process up until the finished product.
Glass Collection

Our glass collection is one of our longtime selling items and perfect as gifts or for daily use. We have one female client who enjoys purchasing a new Edo Kiriko every year as a gift to herself. We also have Old Fashioned glass collection that attract male clients and are perfect as gifts as well.
Tableware series

Our selection of bowls, dishes and pitchers are fabulous and one of a kind. Our original product, small-sized rhombus and oval bowls are our most popular tableware items to date. For those who seek first class, premium quality items, we have Kurokawa Kiriko products, co-produced by two highly talented glassware masters:

Akio Kurokawa

who is known for his work in cut glass and

Makoto Kojima

※, who is known for his work in glassblowing and using rare use of colors.
※Makoto Kojima, Japan Glass Factory Association Member:


Mr. Kojima was trained in a Denmark glass factory in 1979 and since then, established his own glass factory in Gunma prefecture. From 1983 to present, his work was introduced in Asahi Modern Craft Fair and various Japanese glass art fairs. One can find some of his art collection at the Osaka University of Arts and Denmark BORNHOLM Museum.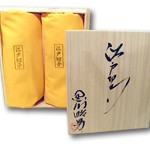 The beauty of Edo Kiriko is created
by only the best quality glass cutting craftsmanship
along with using the grinder to cut glass in a tasteful way.
Unlike other traditional and geometric Edo Kiriko designs, Akio Kurokawa's cut glass work stays with the full value of quality and originality. Kurokawa once mentioned, "Cutting glass is not a big issue. The real issue is what kind of designs will I cut?" For Kurokawa, his design inspirations and ideas come from daily life outside of his atelier.